Please wait...
Rio Vista Centennial Keepsake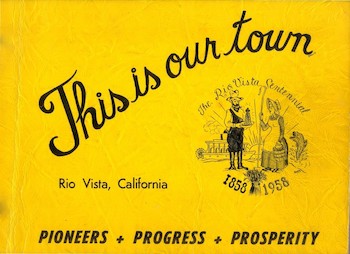 Resource tools
File Information
Options

Online Preview

This resource is available for viewing

Read Now
Resource details
Original filename
riovistacentennial1958.pdf
Caption
Rio Vista Centennial Keepsake booklet from 1958. This booklet contains photos and a history of Rio Vista from 1846 to 1958 and is divided into 6 sections, which cover all aspects of the community. An excerpt from the Dedication text reads as follows: "The citizens of Rio Vista, California, pause during summer of 1958 to glance back over the past hundred year's history of OUR TOWN. From a tiny settlement we have prospered to a jewel of a small city on the bank of the Sacramento River." Designed, compiled and illustrated by Idella R. Church. Assisted by Paul West, Roy Herburger, William Foster and Henry Wilkinson.
Search for similar resources