Please wait...
Chris Horner and Gwen Swope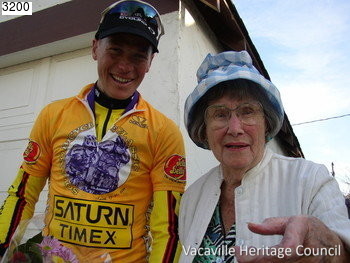 Resource tools
File Information
Options

I know something about this photo!

Feel free to let us know!

Share Info
Resource details
Original filename
P1010054.JPG
Camera make / model
C300Z,D550Z
Caption
Gwen Swope and Cyclist Chris Horner at the Solano Bicyle Classic Event In Downtown Fairfield. Mrs Swope was a lifelong resident of Fairfield. She allowed the race officials access to her electical outlets during the race which ran down Kentucky Street near her home. Her father was Bill Glusen, the first fire chief in Fairfield.
Bike
Search for similar resources